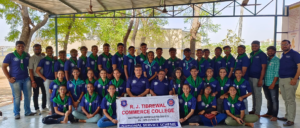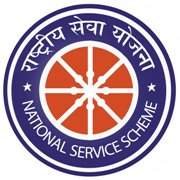 The National Service Scheme is an Indian Government Sponsored Public Affair program conducted by the Ministry of Youth Affairs & Sports Government of India, was initiated in Gandhiji's birth centenary Year 1969, in 37 Universities involving 40,000 students mainly focusing on developing perso
nality of students through community service. The Motto of NSS "Not Me…But You", reflects the essence of self-governed living and su
pports the need for self-less service. The philosophy of the NSS is well doctrined in this motto, which emphasizes on the belief that the welfare of an individual is finally dependent on the welfare of the soc
iety as a whole and therefore, NSS volunteers shall strive for the well-being of the society. Today, NSS has more than 3.5 million students as volunteers on its roll spread over 298 Universities and 42 (+2) Senior Secondary Councils and Directorate of Vocational Education all over the country. From its inception, more than 3.75 crores students from Universities, Colleges and Institutions of higher education have benefited from the NSS activities.
At the college, the NSS began its activities in 2014 – 15. A team of NSS volunteers was formed under the leadership of Dr. Chirag Trivedi (Program Officer), and Sports Director Shri D B Rana. During the first year, more than thirteen social and educational activities were carried out. Under the banner NSS unit, seven days camp was arranged at "Khadiyarapura" village, Dist. Kheda (which is adopted for three years) and the various "Gram Sibir" and cultural activities were performed. During the second year i.e. 2015 – 16 more than twenty three activities – like awareness rallies on social issues, plantation, workshop on best out of waste, seminar on basic Civil Caw, Traffic Rule Awareness, Thalassemia,  Blood Donation camp, Gram Sibir, Health-Checkup camps, Eye- Checkup camps were successfully carried out.
NSS committee of the college:
| | |
| --- | --- |
| Name | Contact no |
| Dr C J Trivedi | |
| Shri D B Rana | |
2018-19
A trip was arranged to Kaleshwari Nature Education Camp site, managed by Lunavada Forest Department on 02/04/18 and 03/04/18
Felicitation of National and International Players at Tagore Hall, Paldi by The society for Physically Handicapped, Ahmedabad, on 29/04/18.The Principal and the In charge Professor were honored for the constant support to the trust

Workshop for PO of schools, KCG, Ahmedabad on 26/04/18 & 28/04/18

Tally Coaching 2018*Computer Lab, RJTCC in association with Shivam Charitable Trust. Mrs. Nimisha Mehta trained students during the period of 26/05/18 to 09/06/18.

The World Environment Day was celebrated by Team RJTCC NSS Unit by providing support for planting 100 saplings under the banner of One Nation One Youth at Gujarat Vidhyapith, Ashram Road and at Suramya 7, Shilaj under the banner of Rotaract Club of Ahmedabad Greater on 5/6/2018.

Blood Donation in association with Red Cross Society, Paldi. Team RJTCC was inspired by V TV reporting on scarcity of blood, and along with REVOLUTION GROUP arranged an unscheduled Donation and Awareness drive at IRCS.Team team donated blood at the registered center of Indian Red Cross Society on 10/06/18.

Blood Donation in association with Kalupur Bank, Vastrapur. RD holders of Team RJTCC were honored by the Chairman of Kalupur Bank on 12/06/18.

Yoga Shibir at RJTCC during 18/06/18 to 20/08/18.
Practical session on 'Sahaj Yoga' at RJTCC. Vaishaliben and her team gave interesting information and practical training about it on 19/06/18.
International Yoga Day was celebrated at Sardar Patel Stadium, A'bad on 21/06/18.
Poster Making Competition at RJTCC on "Antidrug Awareness Amongst the Youth" on 22/06/18.

Support to manage Night Marathon at Rjapath club. Volunteers effectively performed their duties at the Registration Desk, Kit Distribution, Spots at the marathon route and Stage Management on 23/06/18.

A visit to The Old Age Home, Chandranagar, was arranged to distribute various things to the residents on 23/06/18.

A Beat Plastic Drive was held at Vastrapur Lake along with the group 'One Nation One Youth' on 24/06/18.

June 26 is celebrated as "International Day Against Drug Abuse and Illicit Trafficking" by the United Nations. Every year Team RJTCC celebrates the day in a different manner. This year the team was at the campus of Gujarat University accompanied by students of Gujarat Vidhyapith and K S School of Management. Special thanks to Shri Hari Om Gandhi sir, Dr Arun Gandhi and Dr Anjali.

Wall painting at RJTCC Campus on 27/06/18.

Help desk RJTCC Campus. During the admission process of semester 1 proper guidance for confirming the admission and counselling was given to new comers during 28/06/18 to 30/06/18

Talk to V TV at RJTCC Campus. A talk and reflections of college girls on the incident on Gang Rape with "Bhabhiji Aveche" fame Mrs. Shraddha Jha on 30/06/18
Installation of Rotractors at RJTCC on 07/07/18.

Fruit Distribution at Shardaben Hospital In collaboration with Hari Foundation. Fruits were distributed to 350 patients of the hospital on 19/07/18

Orientation Program for the year 2018-19. 20 outgoing volunteers were felicitated with trophies and certificates. All active volunteers for the year 2017-18 were felicitated with NSS Volunteering Certificates on 21/07/18

Guru Purnima celebrations at the RJTCC staff room where the day was celebrated with the faculty members on 27/07/18.

Plantation Drive at Suramya VII with Rotaract Club of Ahmedabad Greater. 42 saplings were planted along with tree guards on 05/08/18

Friendship Day at Vastrapur Lake with the V TV team. Volunteers expressed their views towards the celebration on 05/08/18.

Shri Kamalkumar Kar gave an awareness session on thinking and sharing views on improvement of Cleanliness Drive on 08/08/18.

Walkethon at Sardar Patel Stadium. The  International Youth Day was celebrated by participating at 'Walk for Young Women's Dignity' at Saradar Patel Stadium on 12/08/18.

Independence Day celebrations at the Gujarat UniversityThe celebrations continued at Pandit Deendayal Auditorium, Rajpath along with the Jagrut Jan Trust, followed by flag hosting at 079 Art Gallery, where a spell binding skit ' Education ni sonography' was presented on 15/08/18

HC Meet 2018 Senate Hall Gujarat University. The 3rd Annual Meet of Healthy Campus was organized by the Narcotics Bureau and Gujarat University managed and executed by Team RJTCC. 7 Colleges and volunteers were felicitated for their activities. A cultural program was also arranged by the team on 26/08/18.

A Talk show by V TV on "Opinion of Youth on Reservation Policy" was conducted on the RJTCC campus on 06/09/18.

Team RJTCC NSS successfully completed a Medical Camp at Kahdiyarapura Village, where free medical treatment and medicines were given to over 150 patients of the village.

Team RJTCC NSS was on duty at Gujarat University Convention Hall, to provide assistance for the mega event of Higher and Technical Education Department Government of India. Inauguration of Gujarat Industrial HACKATHON 2018 and Price Distribution of Summer Innovation Challenge Winner 2018 and Students Startup Awards 2018.

First meeting of Campus Ambassador 2018 on 10/09/2018.
Various activities are performed for Election Awareness at different places during October and total of 876 different forms regarding the Election Card were filled up and submitted to the Collector Office with supportive documents.
Janki and Jinkal were selected for the NIC Narkunda, Shimla by the Gujarat University.
The Vigilance Awareness Week was celebrated with the theme "ERADICATE CORRUPTION – BUILD NEW INDIA" in association with Dena Bank Ahmedabad on 1/11/2018. The best three participants were felicitated by officers of Dena Bank Shri Amitbhai and Jatinbhai.
Members of Team RJTCC NSS made a huge Rangoli to giving a message to the society for the upcoming election in the year 2019.
RJTCC NSS team successfully shared responsibility to maintain discipline during the distribution of NAMO tablet at Gujarat University Convention Hall.
Along with Shivam Charitable Trust, sweets were distributed to people whose shelter was demolished by the Municipality near L J Campus.
Shani Darji was selected for Pre RDC at Nagpur. Where he represented the College and the University.

A Big thank you to the team of the physically handicapped trust specially, Kamubhai, Kantibhai ,Vinubhai and Gaurav bhai ,for Great experience and highly disciplined execution of pre assigned responsibility of supporting specially abled competitors at khel mahakumbh swimming competition at Eklavya Academy on 2/12/2018.

On December 15, 2018 Team RJTCC NSS arranged a workshop on guidance for Government job examination and motivational lecture of Shri Sureshdan Gadhvi. Shri Mrunal Patel gave extensive information to commerce students in precise manner.

'A Gram Shibir' was held at Navapura where various activities on Health, Education, Environment, Cleanliness and Women Empowerment were carried out in association with 8 different NGOs.

Marathon 'Run with Soldiers' at Senate Hall, Gujarat University. Volunteers of RJTCC NSS started their work on the same day and prepared video/audio clips that were made viral on the social media.
A PPT on the activities of the Gram Shibir was prepared and shared with the Principal, college professors and students.
A Thalassemia Awareness Talk was given by Shri Maheshbhai Trivedi at RJTCC. The event was in association with Rotary Club of Ahmedabad Greater and Rotaract Club of Ahmedabad Greater.
Thalassemia Checkup Camp was held along with The Red Cross Society of India, the Rotary club of Ahmedabad Greater and Rotaract club of Ahmedabad Greater. A total of 106 students gave their blood sample for the test.
A college level round was executed at RJTCC for the Inter-college Public Speaking competition REVOLUTION– 2k19. A total 20 students participated and 2 were selected for the quarter final round on 28/01/2019.

Shani Darji participated at the SRD Parade at Palanpur and represented the college. He is the first student of RJTCC to participate in such a camp.

17 volunteers celebrated The Republic Day at Gujarat University by participating at the flag hoisting

Republic Day Celebrations at 079 Art Gallery, Rajpath Club Flag hoisting with Jagrut Jan Trust was followed by distribution of 10 thousand boxes of delicious 'Sukhdi' and 'Chavanu' to the Deprived. 2000 boxes were also distributed at Chandola Lake, Odhav area and Asharva slum area.

Volunteers of RJTCC NSS, in support to the Gujarat University Alumni Association, performed their duties at three different places during the Marathon 'Run with Soldiers' at GMDC Ground Gujarat University.
The Quarter-final round of the Inter- College Public Speaking Competition Revolution- 2 k 19 was held on 28/01/2019. In all, 68 students of 35 different colleges of Ahmedabad participated in the event.

The Semifinal and Final rounds of Inter College Public Speaking Competition- REVOLUTION-2K19 were successfully held at L J Engineering Auditorium, L J Campus. The program included Folk songs, Instrumental music, Skit and Awareness Lectures by Shri Hari Om Gandhi, Shri Sureshdan Gadhvi and motivational speaker Shri Nilesh Patel.

Voting and Legal Awareness at Navapura Village in association with L J Law School. A drive for the awareness on legal issues and voting rights was held for the villagers.

Voting Awareness at the Collector Office for the upcoming elections. A meeting was arranged by the Collector for planning and spreading voting awareness. Kaushal has attended the meeting

Around 1000 Resolutions were signed by the students of RJTCC agreeing spreading the awareness regarding the voting right.
2017-18
On the evening of 1st Feb 2018 Shri Kamal Kumar Kar and Smit Retaben were at the helm of an extremely creative and interactive post- budget analysis.

31st Jan 2018: Student volunteers (Team RJTCC-NSS) discussed and analyzed the Budget 2018 that was scheduled to be presented on the 1st February 2018.They spoke with confidence and clarity on the issues that, directly or indirectly affect them. The theme line of discussion this year was expected to be DMC: Digital India, Make in India, Clean India. The entire event    was   covered Doordarshan and was an enlightening experience for the students.

26th Jan 2018: 69th Republic Day of India was celebrated at the RJTCC campus. Advocate Ashokbhai Damani presided over the programme where volunteers played many games from the long forgotten sports past of India.

19th Jan 2018: Revolution-a joint effort of RJTCC-NSS unit and Rotary Club Ahmedabad Greater was celebrated at the Deen Dayan Upadhyay Auditorium.
The program had 3 parts:
The first part was the Grand Finale of the Public Speaking Contest. The contest was conducted in 60 colleges of Ahmedabad and the final 7 contestants went through 3 rigorous rounds to reach the finale.We congratulate all participants and are very proud of Om, our own student who won the 1st prize and also the trophy for the college.
The second section was a cultural programme presented by our students, which began with the rendition of "Jai Garvi Gujarat", featured a Dangi Dance and Garba and a hard-hitting skit on Education. All the performances were highly appreciated by the audience.
The star attraction of the programme was a motivational speech by Shri Sanjaybhai Raval. Talking on Society, Relationships, Lifestyles and Living, Sanjaybhai kept the audience in the interactive mode thinking and responding aloud.
With a major following across Social media Shri Sanjaybhai Raval is a very well-known speaker on Fearless living and Personality Development. His mission in life is to motivate students for believing in themselves and promote reading and exercise. He has conducted more than 900 seminars over the last 5 years.
6th Jan 2018: A Thalassemia Awareness and Check-up Camp was organised by the RJTCC NSS unit in association with Rotary Club of Ahmedabad Geater on January 6, 2018 at R J Tibrewal college campus. Around 180 students remained present for the awareness session conducted by Shri Maheshbhai Trivedi. A total of 109 students were checked for Thalassemia.  The Red Cross Society conducted the check-up.

15th to 18th Dec 2017: A training session on Shrimad Bhagwad Gita chants by Mrs Anjuben Shah, was held on  15th , 16th and 18th of December on the college campus. . Professor Dr C J Trivedi and Dr N V Suchak  mentored the students who participated.

16th Dec 2017:The Statistics Department of RJTCC , organized a one day workshop on Statistical Analysis through Excel. The workshop that was organized for the students of special Statistics, helped the students to be trained directly  by  experts on how Statistics as a subject is useful in everyday practical and professional life.

12th Dec 2017: Dr Darshanaben Thakkar, well known gynecologist, addressed students to promote and augment awareness on Female Health and Hygiene as part of the NSS activities. The program, Paint Your Life ,  was a resounding success with an interactive question- answer session to complete the day.

5th Nov 2018: Mrs Nimishaben Mehta had shown a desire to donate blankets and dohars on the onset of winters in the city. The volunteers of Team RJTCC-NSS unit met her and brought to her the details of Khadiyarapura the village that has been adopted by them. Mrs. Mehta was impressed by the presentation and visited the village to donate 100 dohars  .

27th Sep 2017:The college arranged for sessions on Spoken English and Personality Development for the students. These sessions were complimentary so as to allow maximum participation Prof. Surabhi Pillai held these sessions that had more than 55 participants.

In support to Mr. Jayantibhai Chaudhary's effort to aid the flood-affected of Banaskantha student volunteers of team NSS RJTCC collected over 1000 notebooks and other stationary items apart from groceries for donation in September. A cheque of Rs 70,000/- was also handed over to Jayantibhai.

6th to 8th Sep 2017: A team of volunteers attended a Sadhan Shibir, at Nandigram.
17th Aug 2017: Team NSS-RJTCC executed a medical camp in Motapipli and Nanapipli. More than 200 villagers were examined and treated for various diseases, 100 kgs of insecticide was sprayed around the village for pest control.
Advocate Mr. Ashok Damani addressed the students on Life and the Dangers that confront us.
29th July : A blood donation camp was organized on the college campus where students and their families and friends participated.
22nd July : Team NSS-RJTCC visited the Mahila Rozgar Mela organized at the Gujarat university convention center. The fair that was organized by the Labour and Employment Department, Government of Gujarat in association with Gujarat University and AMC.
A 'Samanti Patrak' was awarded to the volunteers for their incessant efforts on 'Awareness of Voting'. In this connection, an awareness session on voter's rights was conducted on the college campus. We thank Mamlatdar Shri K.T. Mehta, Prin. Darshan Patel and Shri Yogesh Parekh for their support and guidance.
23rd June 2017: Team NSS-RJTCC and Healthy campus did their part towards the campaign against drugs. More than 90 posters were made, creatively expressing the perils of drug abuse. These posters were used in a rally organized in Vastrapur on the 24th of June 2017. We thank the entire NCB team and specially Sagarbhai and Gandhi sir for their support.
16th June, 2017:A Yoga camp was held at the college campus for the students, with the support of healthy campus.
2016-17
07/05/2016 to 21/05/2016: A 50 hour Tally Coaching, Computer Lab., RJ Tibrewal Commerce College 21students participated. Mrs. Nimisha Mehta conducted a workshop.Supportive material and certificates were given by Shivam Charitable Trust.
16/05/20126 to 02/06/2016: Yog Shibir 1 VrajDhamHaveli, Vastrapur lake 35 students participated. Yogacharya of Patajnjaliyogasharm, Shri Atma Prakashji conducted all sessions.
16/06/2016 to 20/06/2016: Yog Shibir 2 Room no 28, R J Tibrewal Commerce College 50 students participated. Yogacharya Shri Atma Prakashji conducted all sessions.
21/06/2016 to 15/04/2017: Supportive Coaching, VSSM, Ramdevnagar 24 students participated. Supportive coaching was provided to 48 little wonders at VSSM by the volunteers. Shivam Charitable Trust provided the financial support for the activity.
21/06/2016: International Yoga Day GMDC Ground 180 students participated .A rally was taken out from the college to the ground.
23/06/2016: Antidrug Poster- making competition Room no 28, R J Tibrewal Commerce College. 45 students participated .32 innovative posters were prepared by the volunteers and all these posters were send to Narcotics Office for presentation.

25/06/2016: Anti drug Awareness Rally Starting from college campus to Vastrapur Lake, Mansi circle to the final destination Alpha Mall. 125 students participated .The event began at 8.00 am from the college campus and a loud slogan chanting against drug – tobacco – liquor etc was done. At Vastrapur Lake, Mansi circle and Alpha Mall a song for anti drug awareness and street play were staged by the volunteers which was highly appreciated by the respective audience.

15/07/2016: Selection of Campus Ambassador,R J Tibrewal Commerce College Chirag Valand and Umesh Vaghela were selected .

18/07/2016: Collection and distribution of clothes VSSM, Ramdevnagar. 20 volunteers of the NSS team collected 250 pairs of clothes for the girls between ages 6 to 14 years and donated it to the girls.

22/07/2016: Orientation Day, Room no 28, R J Tibrewal Commerce College 180 students participated. Shri Devendra bhai gave a very inspirational speech on NSS activities. Outstanding volunteers were felicitated with trophies and certificates. A Power Point presentation highlighting the activities of the year 2015 -16 was done. Also, a PPT showing the journey of RDC was shown by RDC holder Mr. Janak Bhanushali and Mr. Develsinh Parmar.
24/07/2016: Tree Plantation and Cleanliness Drive, Vejalpur – Makarba road 130 students participated. A Rally and a street play on cleanliness were carried out. Saplings were collected from AMC, Forest Department and were planted with the help of nearby residents.
07/08/2016: Friendship Day celebration at VSSM, Ramdevnagar. 28 students participated .The Coaching team celebrated Friendship Day with little girls with cutting cake, playing games, arranging competitions and giving prizes to the winners. The event was financially supported by Shivam Charitable Trust.
15/08/2016: Jagrut Jan Award University at Convention Hall, Ahmedabad .110 students participated .A grand celebration of flag hoisting, cultural competitions and felicitation was arranged by NGO "JAGRUT JAN".
15/08/2016: Flag Hosting at Gujarat University .18 students participated.
23/08/2016: Yad Karo Kurbani at Room no 16, R J Tibrewal Commerce College .125 students participated .As a part of the program by CHE, Army officers were invited to share their experiences and to motivate students to join NCC.
24/08/2016: Digital India workshop at H K Commerce College. 10 students participated. The college team won the first prize award and certificate at the "IDEA GENERATION" competition.
01/09/2016 :Selection for Pre RDC at Gujarat Vidhyapith, Ahemdabad .6 students participated .3 volunteers participated in the selection and 3 volunteers were on duty to assist the participants.
22/09/2016 to 24/09/2016: Celebration of the Annual NSS day at the State Higher Education Board and S P Uni. V.Vnagar. Mr. Chirag Valand represented the college at a 3 day workshop.
03/10/2016: Collection of Chaniya Cholis and other Navratri material at R J Tibrewal Commerce College Campus. 20 students participated. A team of volunteers collected 50 paris of Chaniya Cholis, Kediyas, etc. and other Navratri material for little girls and gifted them.
07/10/2016: Navratri celebration at VSSM, Ramdevnagar. 35 students participated .The Coaching team celebrated Navratri with the VSSM girls.
24/10/2016: Thalassaemia awareness lecture in Room no 16, R J Tibrewal Commerce College .140 students participated .Mr. Mahesh Trivedi of IRD gave detailed information regarding Thalassaemia lucidly. The president of Rotary Club (Greater) spoke on activities conducted.
24/10/2016: Thalassaemia checkup camp in Library, R J Tibrewal Commerce College. 110 students participated. IRD collected blood sample of 103 students. Rotary(Greater) donated Rs. 10000 for the event.
24/10/2016: Felicitation by Healthy campus at Narcotics Department Ozone Hall, University, convention centre. 50 students participated. MSW Department of Gujarat University and Narcotics Department organized a felicitation program where the College received a trophy for outstanding leading campus activities and another trophy for leading performance in a street play.
02/11/2016 to11/11/2016: A State Level pre- RDC camp at M S University Vadodara where P O also visited. Volunteer Dhwanee R Dabhi was selected to represent the college.
29/11/2016 to 05/12/2016: Training for NSS Program at Officer Empanelled Training Institute, Gujarat Vidyapith, Ahmedabad .The training program was organized by Ministry of Youth Affairs & Sports ,Government of India.
05/12/2016: Inaugural function for Digital Banking at Town Hall, Gandhinagar. As per the call of the Regional Office, A total of 25 volunteers attended the event which was led by the Education Minister.
09/12/2016: Cashless Digital Banking workshop at SBI Zonal Office, Ambawadi, A'bad .10 students participated. A 3 hour training program was conducted by the SBI officers.

14/12/2016: Workshop on Digital Banking, Room no. 16, R J Tibrewal Commerce College. 50 Volunteers participated. Dinesh, Rahul and Tofik prepared a PPT on Digital Banking and trained other volunteers. The volunteers also started an awareness program for other students/citizens.

18/12/2016: Marathon organized under the banner of Healthy Campus AES Ground, Ahmedabad. 48 students participated .Volunteers took responsibilities to manage and support the organizer in managing the event.
31/12/2013 to 31/01/2017 RDC Camp – Delhi It is a matter of pride for the college and for the university that Dhwanee Dabhi of our group was selected for the RDC at Delhi.
02/01/2017 to 09/01/2017: PBD at NIC Bengaluru. Our volunteer Chirag Valand was selected for PBD.
03/01/2017: Swachhta Abhiyan at R J Tibrewal Campus. 30 students participated .Mrs. Varshaben and Mrs. Parulben (AMC officer) visited the campus. NSS volunteers interacted with her and the Swachhta app was downloaded by all volunteers.
06/01/2017: Cashless Transaction Awareness Flower Show at the Sabarmati River Front. 55 students explained cashless transaction to visitors and stall-holders and also to Mayor Shri Gautam Shah, who highly appreciated the group's activity.

11/01/2017: Medical Camp at Khadiyarapura Dairy, Khadiyarapura. 42 students participated .A free medical checkup was carried out for 200 patients and necessary medicines were provided by the doctors of L J medical Trust. An eye checkup was carried out and on behalf of Shivam Charitable Trust, glasses were given to 92 patients and 6 of them were operated for cataract on 16/01/2017 at Lions Eye Hospital Ognaj. These operations were free of cost.

12/01/2017: Seminar on Gender Equality in Room no. 28, R J Tibrewal Comm. Col. 95 ACP Mrs. Bharti Pandya and others addressed the audience and gave tips on Women Empowerment.
17/01/2017: Expectation from Budget 2017, New IIM campus, Vastrapur. 20 Volunteers had direct interaction regarding the up-coming budget is done with various personalities from the fields of Politics, Industry and Academics.
21/01/2017 to 27/01/2017 Road Show for Blood Donation Vastrapur and Satellite Area. 80 students participated in Rally, Sloganeering, Poster Showing and Counseling was carried out for motivating common citizens for blood donation.
26/01/2017:68th Republic Day, Gujarat University. 20 students.
28/01/2017: Blood Donation Drive in Library, R J Tibrewal Commerce College 160 students participated .In collaboration with the Civil Hospital, A'bad and Shivam Charitable Trust, a total of 131 units were collected.
28/01/2017: Aadhar card Registration Computer Lab., R J Tibrewal Commerce Coliege . 25 students participated. 40 new Aadhar cards were issued and more than 50 were corrected on the spot.
04/02/2017: Talk show on Cancer Awareness Divya Bhaskar Office, S G Highway. Dr. Chirag Trivedi participated in the interactive session with cancer specialist and patients.

05/02/2017 to 11/02/2017: Gram Shibir at Khadiyapura, Dist Kheda. 39 students participated .With the objectives of NSS, activities like Cleanliness, Education, Awareness on environment, Health, Women Empowerment, Organic Farming, "Vyasan Mukti' Survey, etc. were carried out and a detailed survey report were published.

11/02/2017: Meeting with Secretary New IIM campus, Vastrapur .6 students participated .An Interactive session was held with Shri Amerandra kumar.
17/02/2017 to 24/02/2017: NIC at Karnataka Hukeri, Karnataka. Harsh and Riddhi participated in the camp.
21/02/2017 to 27/02/2017: Inter College Camp Punadra. Kamal, Bhavik, Kishan, Hitesh, Parth and Mayur participated in the camp.
26/02/2017 to 28/02/2017: Best Leader Competition at Kanbha, Gandhinagar. Dhwanee and Nancy participated with innovative ideas of presentations.

23/03/2017: Shahid Din Sahid chowk, Vastrapur, A-bad. 42 Volunteers took part in Rally, Sloganeering and the gathering, as per the direction of Local Corporater.

27/03/2017 to 28/03/2017: Adventure camp Sasan Gir, Radhe Farms. 44 students participated. A very close viewing of wild animals and 5 km walk in the forest was enjoyed by the group of volunteers.
2015-16
21-06-2015 – The Yoga Day celebrated under the guidance of yoga guru Shri Atma Prakash
07-07-2015 – Orientation of freshers towards the NSS activity and experts artists, demonstrated how to use waste to create the best in the workshop on "Best out of waste"
17-07-2015 – Gujarat university organised a 3 day training session.
08-08-2015 – A lecture session on "Basic Civil Laws" was organised and Ms. Asha Thakker highlighted on laws concerning women, Domestic violence etc.

15-08-2015 – Independence Day Celebrations and Flag hoisting by Shri kamalkar the Regional Director of Gujarat State Youth and Sport Department and tree plantation was done thereafter.

22-08-2015 – A tree plantation and environment awareness programme was organized and a rally was taken out in Jetalpur.

18-09-2015 24-09-2015 – NSS Team of our college had adopted a village Khadiyarpura in Matar Taluka of Kheda district IN 2014. Volunteers organised a workshop there, and villagers were highlighter on various social issues and new government initiatives.

07-10-2015 To17-10-2015 – Shri Janak Bhanushali, completed his training for Republic day parade from Nagpur.
14-12-2015 Volunteers of NSS participated in educating the nomads who have been sent to various schools between 1st to 7th standards by an organization VSSM in Satellite.

06-01-2016To 10-01-2016 -70 NSS volunteers from our college participated in the 5 day celebration of completion of 600 years of Ahmedabad which was celebrated as Sabarmati Festival by Gujarat Tourism in collaboration with various NGOs.

12-01-2016 – Awareness Programme on 'Save Bird' was organised by Forest Dept & 'Trust PAPA' NGO under 'PREVENTION IS BETTER THAN CURE'.
29-01-2016 – A Rally was taken out for cancer awareness and prevention by displaying placards after which a visit to Cancer Hospital was organised where an Oncologist highlighted the causes, prevention and care for Cancer.
30-01-2016 – Volunteers Collected 5500 'Manjhas' (Threads) from Ahmedabad and made a bonfire of them in the University Cinder Track.
31-12-2015 To 30-01-2016 – Shri Janak Bhanushali, did us proud when he represented Gujarat at the Republic Day Parade
11-02-2016 – A lecture session, on Thalassemia by  a doctor from Civil hospital.was organised to bring awareness.
13-02-2016 – Volunteers visited, Sughad, A village near Gandhinagar, Environment protection centre where Shri Narendrabhai explained about 16 types of Eco-Friendly lavatories.

20-02-2016 – Visit to Sardar Sarovar. Volunteers visited Sardar Sarovar Dam at Kevadia colony and got first-hand knowledge of irrigation, electricity production, water supply, cleanliness and discipline in the 7 day workshop.

27-02-2016 – Blood Donation Camp was organised for which prior preparations were made to spread awareness in public places and through social media and could successfully collect 100 units of blood.

14-02-2016 -Volunteers celebrated Valentine's Day with the Tribal nomads who are taught by these volunteers.

18-03-2016 To 24-03-2016 -The Gujarat University NSS Department organised inter-college workshop in Leelapur village.Shri Chirag bhai Valand, our volunteer, was appointed as office minister and Ms. Nanci Soni was appointed as Project-In-Charge. Various activities like village cleaning, games, cultural acitivites and 1 day home-stay were taken up. Chirag bhai Valand secured a first prize in sports.

24-03-2016To 26-03-2016 – A Best Volunteer seminar was organized in Leelapur village and volunteers from 13 colleges participated. Shri Janak Bhanushali exhibited his photographs in 8 charts and made a presentation which was commendable. He was assisted by Shri Kamal Parmal and Deval Parmar.
2014-15
29/08/2014 To31/08/2014 -Shri B.D Raval , Program officer of NSS unit RJTCC, attended an orientation seminar for NSS Program officers of colleges, affiliated to Gujarat university having NSS units, at Mount Abu organised by the C.U Shah Arts College.

22/09/2014 – Shri Karsanbhai Chothani(Program officer of CU Shah Arts college) NSS UNIT gave a speech in which he provided detailed information regarding  working of NSS.

24/09/2014 – The NSS day was celebrated by spreading awareness on cleanliness by cleaning the campus and also the nearby area .
25/09/2014 -Shri Rakesh bhai Shah,MLA, inaugurated the Swatch Bharat Saptah on 25/09/2014 where 66 NSS volunteers participated.

30/09/2014 – In Celebration of Swatch Bharat Abhiyan week, 26 volunteers visited V.S hospital spread awareness regarding the importance of cleanliness and also about diseases which are caused by lack of proper cleanliness.

14/11/2014 -Children's Day was celebrated with encouragement and gift to students of municipal schools by  Jainam Sheth and other volunteers.

16/11/2014 -With the help of traffic police commissioner traffic branch, On Road Accident patient's Remembrance Day Ravi Rathod, a volunteer of NSS, directed and guided and organized a event for general public awareness regarding traffic rules and regulations  . In this programme, Associate professor Dr.Chirag Trivedi ,Program officer BD Raval, Director of Physical Education DB Rana and 30 NSS Volunteers spread awareness among the cities about the Traffic rules and regulations. Volunteers visited 15 hospitals and met people injured in accidents.

15-12-2014 To 19-12-2014 -Our Progam Officer Shri BD Raval attended the Programme officer's training workshop at Gujarat Vidyapith organised by the NSS Regional office.
20-12-14 To 26-12-14 – Sheikh Tohfik , Dinesh Dabhi, Rahul Bodar, Nikita Makwana, Kavita Devrukar and  Hiral Meriya attended the inter college work camp  organised by the Gujarat University at Lilapur village.
28/01/2015 To 03/02/15 -38 volunteers participated in a village camp at khadiyarpura, Dist Matar ,Kheda Jilla .

19/03/2015 -A Blood Donation Camp was organised in cooperation with Civil Hospital Blood Bank. The entire programme was under the leadership of Kamal Parmar and along with him the core volunteers of 30 students created awareness about the blood donation and importance of the same. distributed pamphlets.82 bottles of blood were collected and more than 51 people had donated blood for the first time.