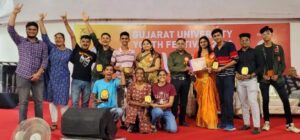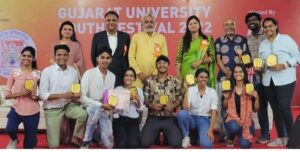 RJTCC acknowledges the importance of extra and co-curricular activities in the complete well-rounded growth of its students' personality and has a pulsating calendar of cultural activities that showcases talent in Performing, Intellectual and Fine Arts. All activities are divided into inter and intra college levels.
The Dance team of the college has a formidable reputation with many students graduating into being well-known choreographers of Gujarat.
The Fine Arts team of RJTCC is a looked-forward-to competitor at all city and state level competitions bringing in accolades to the college.
Performing Arts is another field where our students have shown exemplary talent.

The college has a unique pride of being one of the top three colleges at a national level Stock and Market based quiz competition, MONETA, hosted by a Mumbai-based college, for many successive years. What sets us apart is that our undergraduate students compete and win against students pursuing Master Degrees.
 Cultural committee of the college.
| | | |
| --- | --- | --- |
| Sr.No. | Name | Telephone No.s |
| 1. | Dr H M Parikh- Convener | 9825031369 |
| 2. | Prof P A Sutaria- Co Convener | |
| 3. | Prof M A Shah- Co Convener | |
| 4. | Prof P N Suchak | |
| 5. | Dr U S Javeri | |
| 6. | Dr C J Trivedi | |
| 7. | Prof J P Chauhan | |
Cultural_ Achievements_ 2018-19
Cultural_Achievements_2016-2017
Cultural_ Achievements_ 2015-2016
Cultural_Achievements _2014_ 2015
Cultural_Achievements _2013_ 2014
Cultural_Achievements _2012_ 2013