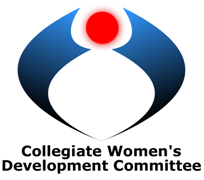 Over the years, women are entering the professional arena in large numbers and with it has arisen various issues regarding women's security, safety and maintaining women's dignity and self-respect. In this direction, the Honorable Supreme Court of India has issued a directive to various organisations and institutions to set up commissions to monitor and safeguard the interests of women in the society as well as at their workplace. Gujarat University has also constituted a cell for the above mentioned purpose.
At College level, the Collegiate Women Development Cell (CWDC) began its activities in 2005-06. Dr M M Desai and Prof Jignasa Chauhan were the Founder-Conveners.   Together, they have inspired not only girls-students but also the boys of the college to actively participate. Since then, various efforts are being made to empower girl students by giving them self-defense training and enabling them to become financially independent by way of giving them vocational training. Over these years, we have conducted courses in Garment Designing and Development and Martial Arts and lectures on Peace and Harmony Stress Management, competitions in Essay-writing, Elocution Workshops in Art and Craft, Yogasana and other such programs that go a long way towards the holistic development of our female students.
WDC Committee
| | |
| --- | --- |
| Name | Contact no |
| Prof Manisha Shah-Co-convener | |
| Prof Jignasa Chauhan-Co-convener | |
Activities during 2022-23
22nd July 2022: Elocution competition : To celebrate the Booker prize awarded to a Hindi novel RET SAMADHI, in translation Tomb of Sand, by Gitanjali Shri ,an elocution competition was held by the CWDC.  Eight competitors spoke on various works by  Indian women writers. The 3 best speakers were awarded. Congratulations DIVIJ, DHRUJAL and YASH.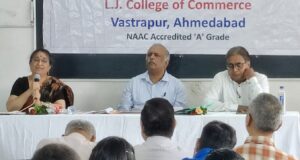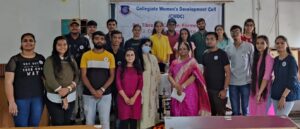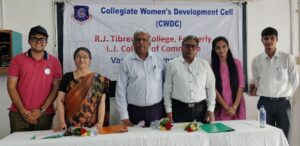 5th AUGUST 2022: Twenty volunteers celebrated an early rakshabandhan with traffic police personnel tying rakhis onto policemen at Shivranjani crossroads and the Satellite police station traffic police cell. A visibly moved group of policemen appreciated the gesture. Sweets were exchanged in a traditional programme.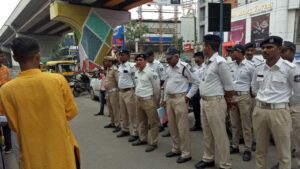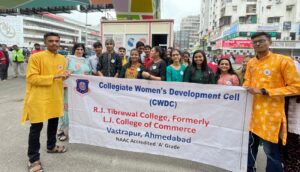 23rd August 2022: The new batch 2022-23 was welcomed in an orientation programme. The guest of honour was Dr. M.M.Desai ,retired professor of the Statistics Department and a well known social worker of the city. She was also the founder member of the cell and she motivated students with her talk. 35 student volunteers were felicitated for their contribution to last year's activities.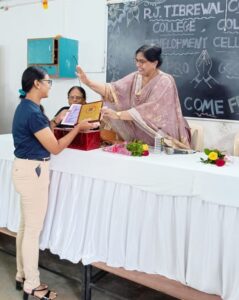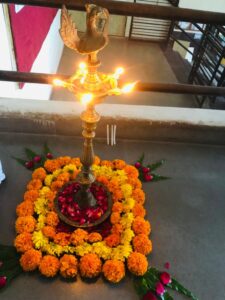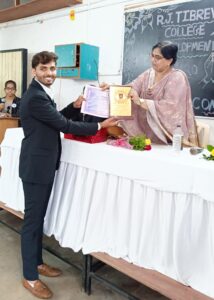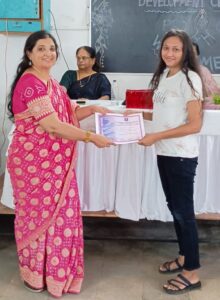 A workshop on gift wrapping and card making was held preceding Diwali vacations in the month of Oct 2022. Students learnt new ideas on sending personally wrapped gifts. We thank Ms Kirti Singh Rajput, an alumnus for her enthusiastic training.
10th January 2023: Distribution of khichdi by CWDC volunteers. Around 15 kgs of masala khichdi was distributed to homeless and construction site workers from material collected from student body. We thank principal sir for his constant support and put on record special efforts of Daalichand bhai who cooked the khichdi and Shantibhai who was with us for the entire trip.
Activities during 2021-22
AUGUST, 2021    : INDIAN WOMEN ACHIEVERS IN 75 YEARS OF INDEPENDENCE, DURATION: 10 DAYS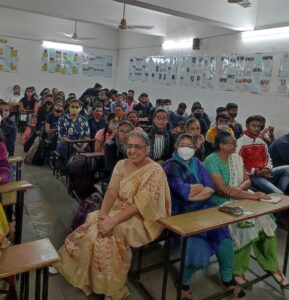 As part of the Azadi Ka Amriti Mahotsav to celebrate 75 years of Independence, students of CWDC had made charts about various Indian Women Achievers from different fields like, Sports, Politics, Literature, Films, Science and Industry, etc. since 1947. At first number of women was limited to 75 but then it had to be increased to 112. The project was exhibited as part of the orientation program for First Year students which was conducted on 17th December 2021.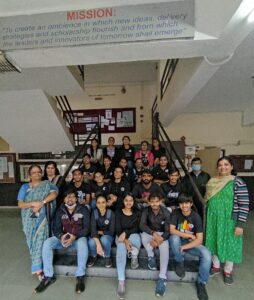 ESSAY COMPETITION THE SENIOR CITIZEN AND THE SOCIETY
CWDC,RJTCC setoff the year's activities with a tribute to a very important section of the society-its senior citizens. With an intention to explore how the youth perceived their elders an essay competition was held on the umbrella theme of Senior Citizens and the Society and students were given the freedom to explore sub-themes like Governmental policies, Students and Elders, How the experience of seniors can be assimilated for the society and Personal experiences.
Medium of expression were both, English and Gujarati and the competition was judged by Dr. Titiksha Dhruv, HOD, Department of English and Communication Skills
અમદાવાદ શહેરમાં વસ્ત્રાપુર ખાતે આર. જે. તિબ્રેવાલ કોમર્સ કોલેજના CWDC વિભાગ દ્વારા આગામી ગણેશ ચતુર્થીના તહેવારના સંદર્ભમાં તા 08/09/2021ના રોજ એક "ઇકો ફ્રેન્ડલી" ગણેશજીની મૂર્તિ બનાવવા વર્કશોપનું આયોજન કરવામાં આવેલ હતું. જેમાં ૩૦ જેટલા વિદ્યાર્થીઓએ ઉત્સાહ પૂર્વક ભાગ લીધો હતો,  કુમારી સલોની સુથારે આ વર્કશોપનું સંચાલન કર્યું  હતું  અને તૈયાર કરેલ કૃતિઓનું પ્રદર્શન પણ રાખવામાં આવ્યું હતું આ પ્રસંગે સંસ્થાના પ્રિન્સીપાલ શ્રી ડૉ હિતેન પરીખે ટ્રેનરને પુરસ્કાર આપી સન્માન કર્યું હતું અને ભાગ લેનાર વિદ્યાર્થીઓના પ્રયત્નો ને  બિરદાવ્યા હતા .
1st OCTOBER,2021 : A DAY WITH THE INDIAN POLICE: CWDC-RJTCC WELCOMES OFFICERS FROM THE MAHILA POLICE STATION (EAST) FOR INTERACTION ON WOMEN -RELATED PROJECTS AND ACTIVITIES.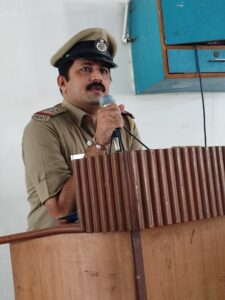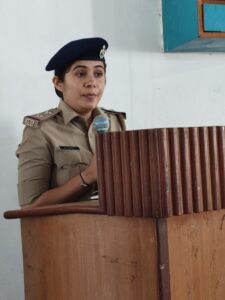 CWDC-RJTCC arranged an interactive session with the officers of the Mahila Police Station Ahmedabad(East), where the officers spoke on various activities the police conducts as part of Women safety . PI Vikram Tank, Crime Branch and PSI J.K.Pandya ,Crime Branch spoke at length on Cybercrime, IUCAW, AHTU,SHE-team and 181.The talks were followed by a question-answer session where students freely put up questions and got detailed replies to their queries. ORIENTATION PROGRAM.
17th DECEMBER, 2021    :ORIENTATION PROGRAM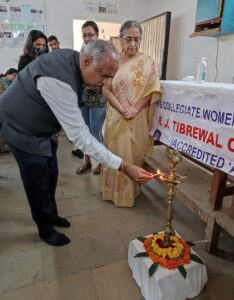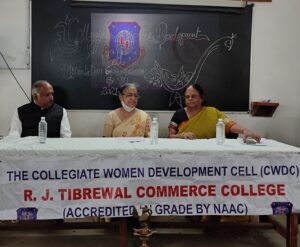 An ORIENTATION PROGRAM for first year students. Our Chief guest for the event was Dr. Bharati Pathak, Director, School of Commerce, Gujarat University. Along with the students, all the college professors and the principal of the college had also attended the program. At the end of the program, volunteers who had actively participated in the events conducted by CWDC last year were felicitated with trophies and certificates. The program was a grand success.
6th January 2022 : JOY OF GIVING
As winters got colder this year, the CWDC-RJTCC was moved by the plight of those living in temporary homes all over the city. This initiated a drive the volunteers lovingly named Joy of Giving.
Initiated on the 20th of December, the mission was to collect enough stuff to be able to give out gifts in the first week of the new year. The volunteers started spreading word for a collection drive soliciting contribution in form of clothes, woollens, toys, footwear home linen and stationery.  Students segregated the offerings, gift-wrapping and packing them under different categories,to be distributed at predetermined locations in Vastrpur.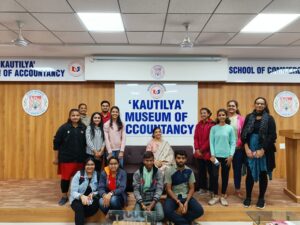 18thJanuary,2022 : A visit to the Kautilya Museum of Accounting
A group of 13 students were taken to a visit to the Kautilya Museum of Accounting, a first of its kind of museum. They were introduced to the history of Accountancy and spent a fruitful time interacting with Ph.D students at the P.G. Centre of the School of Commerce ,Gujarat University.
Talent:11th February 2022CWDC-RJTCC organised an in-house competition to showcase the co-curricular talent of the college. In a crisp, well-managed event elocution, stand up, poetry- recitation, dance and music found fair representation. Well -done Shubhangi,Neel, Harsh, Deep and all others for organising a fantastic event.
Activities during 2020-21
26 December 2020: UN 75 / VAJRA'O FORCEA Youth-Dialogue on GENDER DIVIDE- BRIDGING THE GAP, as part of the 75th anniversary celebrations of the United Nation, was organised on Saturday the 26th of December, 2020 in association with the Vajra 'O Force Foundation. Presentations were made by students on various subjects like Income Inequality, Impact of Climate Change, Digital Technologies, Conflict and Violence which need to be addressed by the UN towards a better world by 2045, which will be the year of centenary celebrations. The webinar was recorded and sent to UN.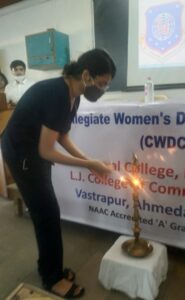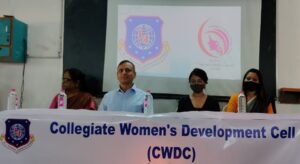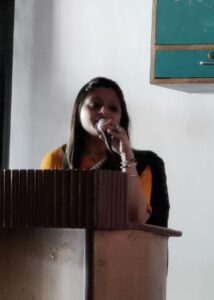 3rd March, 2021: Seminar on Listening skillsA seminar was organised on Listening Skills. Ms Jasmi Sugunan, Ms Anandita Patel & Mamtaben of Aadarsh Ahmedabad, were the chief guests for the event. Jasmi Sugunan is an Advocate, a consultant counsellor working with Psychological Development & Mental Health Foundation (PDMHF) and is a volunteer at Aadarsh Ahmedabad. She addressed the importance of better listening for a better interpersonal relationship for harmonious co-existence in the society.
Activities during 2019-20
6th April:  A felicitation ceremony was held for volunteers who were honoured for services rendered in the last academic year.
12th  July, 2019: KNOW YOUR RIGHTS, a workshop on the Legal Rights & procedures and   ways to address Gender   Bias   was   conducted   by   Ms.   Devyani Verma and Ms. Avni  Bhatia of JOSH. We thank Ms. Verma, Campaign Manager,Josh and Ms. Bhatia for the lucid and conducive manner in which the program was conducted.
1st August, 2019: Representatives from CWDC- RJTCC participated at the National Symposium on   Women's  issues  titled   Redefining   Womanhood. The   National conference was organized jointly by CWWDC-GLS University and WILPF.
13th  August, 2019: Rakshabandhan was celebrated with fervour at Gandhinagar where  the volunteers of CWDC-RJTCC, collaborated with the Wajra 'O' Foundation to tie rakhis on the wrists of jawans from the CRPF.
31st August 2019:  A Tree Plantation drive was conducted by the CWDC-RJTCC at the Muskan Garden, Jivraj Park. This was our contribution to the conservation and  enhancement  of the Green cover for Mother   Earth. The volunteers and conveners were joined by AMWA in planting scores of saplings in the garden.
7 Dec 2019:An Oratorical Competition was held by the Smt Jyotsanaben Dave Memorial, All India Hind Mahila Parishad where Ms Jagruti Parmar represented RJTCC, CWDC and secured the First Prize.
6-8th January 2020 : A 3-day workshop was held by the Collegiate Women Development Cell where our own student, Ms Kirti Rajput, taught the participants the art of making designer Bangles and Earrings showing them a direction towards self-employment.  Principal C.A. (Dr.) Hiten Parikh felicitated her for her contribution
10th January 2020 : Collegiate Women's Development Cell organized, Rangoli, Mehendi and Bridal makeup competitions as part of Unnati 2020. Principal Shaila Qadri of Aparna Trivedi School was guest judge at the competitions.
13th January 2020 : The Students of CWDC put up a stall and sold Bangles and earrings that they made during the workshop. This helped them learn not only a new art but also the nitty-gritty of costing, pricing and profit making
Activities during 2018-19
Congratulations Dr. M. Desai, Convener, CWDC-RJTCC for the following awards

Outstanding Humanitarian Award, City of Harvey, May 2018, Chicago.
 SADHBHAVNA Award (with 51000 Rs cash which is donated to AMWA Public Trust), Sadhbhavna Foram Kailas,Gurukul, Mahuva ,June,2018.
 Certificate of Recognition ,Wajra O'force & Golgappa Club , Teacher's Day- 5th September,2018.
An orientation program was organized by CWDC- RJTCC on 25th July, 2018 at the college campus. Prof. Smita Joshi & Prof. Heena Shukla highlighted the role of CWDC in empowering girls. A Power Point presentation showcasing the activities of CWDC- RJTCC was also presented on the occasion.

CWDC-RJTCC, in collaboration with Wajra o' Force Empowerment Foundation celebrated Raksha bandhan by tying Rakhis to the patients and staff at the Civil Hospital, Ahmedabad, and August, 2018.

Dr. Hasina Kapadia,MD-DGO(Director,Mahin Life Care Service Private Ltd) conducted a  session on Gynecological  problems, confusions, misconceptions & their solutions for girls students  in the seminar on 31st August,2018.

Shri Pushpak Shirudar , our alumnus ,held a three-day Workshop to encourage students towards self-employment in the college premises between 9th & 11th January 2019. He taught the students to make photo frames, 3D photo frames and birthday cards from used newspapers and cardboard. These artifacts were displayed in the Art Gallery as part of a funfair during UNNATI 2019 on 23rd JANUARY 2019.

Mahendi, Rangoli and Bridal Makeup competitions were organised on 22nd JANUARY 2019 as part of UNNATI 2019 under the banner of CWDC.

Usha Venkatesan and Prof. Jignasa Chauhan and three students from the core volunteer team attended a one-day seminar on "The Role of Internal Complaint Cell and Women's development Cell" organized by M.B.Rashtra Bhasha Arts and Commerce College on 12th FEBRUARY 2019.
Activities during 2017-18
Three day Clay Art training program:

The Collegiate Women's Development Cell (CWDC) , RJTCC organized a three day Clay Art training program  from 30th January to 1stFeb, 2018. Divya Prajapati, our own student, ably trained the participants.On 2nd February, the clay models prepared by the students were displayed, in an impromptu art gallery setup in the college foyer. The gallery also displayed the photo framing art by Pushpak, a T Y B Com student. This was as a pre- information for next year's proposed training program. Students, Faculty members and Administrative staff visited the exhibition and appreciated the efforts of the students. Principal CA (Dr.) Hiten Parikh along with the conveners, Dr. Prof. Maherunnissa Desai and Prof. Usha Venkatesan, felicitated the mentor, Divya Prajapti, for her dedicated effort.

The day to celebrate the birth of girl child: 

The Collegiate Women's Development Cell of R.J.Tibrewal Commerce College celebrated youth day as Girl child day on 12th January 2017 in the college campus along with the conveners Dr Prof Maherunnissa Desai and Prof Usha Venkatesan. Enthusiastic guidance and support by Principal CA Dr Hiten Parikhand other faculty members gave great support to the cause. Flowers and pamphlets were distributed to all the girl students as a token of celebration. A rally was taken out to highlight the cause. With due guidance and support, the event remained quite successful. This day was supported by Shri Sanjay Jani who celebrates this day to honor the Girl child every year to mark the birth of his twin daughters. On this day, he distributes roses and pamphlets to educational institutions and hospitals to create awareness of the importance of girl child in the Society.

Visit to the Hindu Spiritual and Service Fair:

The Collegiate Women's Development Cell of R. J Tibrewal Commerce College visited the Hindu Spiritual and Service Fair along with the convener Prof. Usha Venkatesan at GMDC on 5thJanuary, 2018 and attended an event on Nari and Social Development. Eminent women personalities of India like Ms Indumati katghare, Ms Dilnawaz Variyava, Ms Manisha Kothekar and others were the chief guests of the event. They put across the issues like Instilling patriotism, role of women in Health and Education, agro-ecology. The event offered personal fulfillment along with spiritual enrichment.

Awareness Program by C.W.D.C through AMWA Trust:

The Collegiate Women's Development Cell of R.J. Tibrewal Commerce College in active collaboration with AMWA Trust conducted an event to spread awareness on the Micro Financing Scheme at AMWA trust, Juhapura on 3rd January, 2018. Mr. M.U.Sharif Desai, President, Maher credit and supply Co-operative Society Ltd. was the chief guest for the event. He appreciated the women audience through his speech. The convener of Collegiate Women's Development Cell and president of AMWA trust, Prof. Dr. Mehrunnisa Desai, addressed the audience about women empowerment, importance of financial security and savings and interacted with them. The members of C.W.D.C – Ayushi, Shubhendu, Prashant, Devarshi and Harshad spread awareness on the subjects like Importance of savings, education and economic independence. The interns from Karnavati University elaborated the audience regarding micro financing scheme. With due support of the members of AMWA trust, the event came out to be a great success.

The CWDC (Collegiate Women's Development Cell) at R.J.Tibrewal Commerce College organized Raksha-bandhan Celebrations at the Mahila Police Station, Vastrapur on 5th August 2017 where 15 volunteers actively participated in the event. The Head PI Ms. M.A.Singh inspired the girl students for a journey towards self-dependence. Rakhi was tied to all the female inspectors to pay respect for their contribution to the society. CA Dr. Principal Hiten Parikh, along with the conveners Dr. Prof. Maherunnissa Desai and Prof. Usha Venkatesan coordinated and assisted the volunteers in making the event a success.

CWDC (The Collegiate Women's Development Cell) at R.J.Tibrewal Commerce College conducted it's Orientation Programme on 3rd August 2017, Thursday. Dr. Mrs. Rajashree Bhatt and Dr. Savita Gandhi were the chief guests of the program. They delivered lectures on "Women Empowerment and Gender Equality". A presentation prepared by the students on the working of cell. 15 volunteers assisted the program that was attended by 150 participants. The CWDC committee; Principal CA (Dr.) Hiten Parikh, conveners Dr. (Prof.) Maherunnissa Desai and Prof. Usha Venkatesan spoke extensively on the achievements and activities held in the past years and also about the future scope and plans of the CWDC.
Activities during 2016-17
C.W.D.C and NSS Unit of R.J.Tibrewal Commerce College, organised a Seminar on Gender Equality on 12th January, 2017. ACP of Vastrapur Police Station, Ms Bharti Pandya presided the event and enlightened the students about the simplicity of approaching the police and highlighted the fact that police is a friend. Interesting lectures were delivered by Dr Shubha Nigam, Prof. L.D. Arts College who talked about advertisement and media where women are objectified. Prof Smita Joshi of M.B. Patel, Rashtrabhasha college, said that students should come out openly, against stalking and through Yoga attain self-confidence to speak out against exploitation. Approximately, 150 students participated in the event.

A Mahendi competitionwas organised by our cultural team and the C.W.D.C supported the event on 30th December,2016, and 10 students participated in it, which was judged by Anita Tanna (Director,Raa-Positive Media).

During the cultural events of our college, C.W.D.C supported a Rangoli competition on 29th, December, 2016 and 7 students competed and the event was judged by Dr Lata Pandya (Dept. of Gujarati, M.B.Patel, Rashtrabhasha College)

The C.W.D.C of our college with AMWA Trust organised 'An Interactive Workshop on Women Empowerment' for the grass root level women at Juhapura,Ahmedabad on 27th December, 2016. Shri S.M. Peerzada (Retired Judge) presided the event. C.A. Dr.Prin.H.M.Parikh, Dr. Maherunnissa Desai, Prof.Usha Venkatesan and Ms Gulistan Kadri delivered lectures. Parallel sessions were held where students learnt and also shared their views on management, administration and accounting skills with the women involved in Khakhra Making, Embroidering, Mehendi making and those involved in micro finance. They visited the in-house library. 25 students and 70 students from the grass root level participated.

Ten students, Harsh Chauhan, Kamal Parmar, Deval Parmar, Harshil Parmar,Akshay Barot and others actively participated in an event 'Salute India, N.R.I Award-2016 on 22nd December,2016, which was organised by Global Gujarati Federation(GGF) and presented by RAA Positive Media, where 6 Gujaratis were felicitated.

On the 13th of August 2016, The CWDC of RJTCC in collaboration with the Unity Trust celebrated the Raksha Bandhan as a festival of communal harmony. Mr. Indukumar Jani presided the function, Principal CA Dr. H. M. Parikh, Mr. A. A. Shaikh,  Mr. Usmanbhai Maru, Dr. Meherunnissa Desai , Prof. Usha Iyengar and other dignitaries graced the function which was held at New Age High School Juhapura. Students of both the institutions tied Rakhi as a mark of communal harmony. Elocution Competition was held on the topic "Manavata Aej Sacho Dharma" Around 40 students from the college participated in the event.

A 3 day self defense workshop for girls of our college, was organized from 8th to 10th August, 2016. This training was to enable the girls to face the adversities that may arise at home, outside and at work place. C. A. Dr. Principal Hiten Parikh felicitated Guru Hemang Prajapati and his team who trained the students, during the valedictory function, 60 students benefited from this session.

RJTCC collegiate women development cell organized an orientation programme on 2nd August 2016 at RJTCC campus. The guests of honour for this event were Prin. Dr. Shirali Mehta of SLU College and Prof. ChandrikaBen Raval of Sociology Department, Gujarat University. They addressed the gathering on the role of Women Development Cell and the rights & responsibilities of women in society. Trophies & certificates were awarded to students who contributed towards the functioning of this cell. C. A. Dr. H. M. Parikh, our Principal graced the occasion. Students enthusiastically participated in the discussion.
Activities during 2015-16
One day State Level Workshop-CWDC-The Collegiate Women Development Cell (CWDC) of RJTCC organized a one day state level workshop on "Revisiting Women Empowerment" on 19th February,2016. Eminent personalities who have worked at the grass root level on women upliftment like Dr. Pushpaben Motiyani, Miss Ruzan Khambatta, Dr. Mandaben Parikh graced the event. In the technical sessions, papers were presented on issues like harassment of women at work place, role & Panchayati Raj in women empowerment and subtle discriminations that women face. Students participated in great numbers and were motivated by these personalities.
Activities during 2014-15
Organized month-long Skill Imparting training programme in Garment Design and Development by technicians from ATIRA: RJTCC campus.
Arranged lecture on Hiroshima Day, RJTCC campus.
Organized Yogasana session for Stress Management, RJTCC campus.
Organized Raksha-bandhan celebration at Vastrapur Police station.
Organized workshop on Martial Arts Techniques for Self-defence under the Police Heart campaign.
Attended Breast cancer awareness programme (Pinkathon) run at Sabarmati River-Front.
Activities during 2013-14
Attended seminar Beti Bachao women's Right and Protection of Women from domestic violence ACT -2005 and the importance of Literacy and Health to women, Gujarat Vidyapith.

Organized two day Workshop on self-defense for girls where Mr. Hemang Prajapati trained the girls on martial arts, RJTCC campus
Organized two day Workshop on flower making and glass painting, RJTCC campus

Organized lecture by Dr. Bipin Tripathi, Professor and Head of Dept., IIT Delhi, People Centric Nationalism, RJTCC campus.
Activities during 2012-13
Organized a seminar at "AMWA" Mahila Jagruti Kendra, where the college made its presence felt by presenting a play and several speeches.
Organised seminar The Role of Student in the Development of The Nation,RJTCC campus.
Activities during 2011-12
Attended workshop by Women International League for Peace and Freedom (WILPF), Research Option for WILPFers in Gujarat , 15th Sept 2011;AWAG, Bhudarpura

Attended workshop by WILPF Gujarat , Orientation Program "WILPF AND WE" ,5th Oct 2011; at Shree Narayan College of Commerce, Opp. ISRO, Jodhpur Tekra, Satellite.

Attended workshop on the occasion of International Women's Day organized by WILPF Gujarat; "Gujaratni Mahilao ni sthiti: Dasha ane disha" , 2nd March 2012; at Gujarat Vidhyapith .

International Women's Day Celebrations; Discussions were conducted on the following topics

Gujarat ni mahilaoni samajik samasya ane ukel
Gujarat ni mahilaoni arthik vikaas ma bhumika
Gujarat ni mahilaona adhikaro ane kanuni suvidhao
Gujarat ni mahilao ni badlati rajkiya bhagidari;
8th March 2012; Gujarat University,Ahmedabad.
Attended Seminar; Women's Empowerment through Economical Independence; 10th March 2012; Gujarat University, Ahmedabad.

Attended Workshop; "Gandhi Vichar & Prasar"; 28th March 2012 ; Shanty Sansodhan Kendra, Gujarat Vidhyapith & WILPF Gujarat ,at Gujarat Vidhyapith.