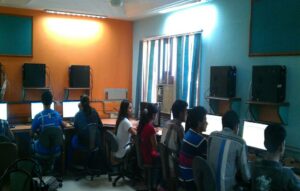 R.J.Tibrewal Commerce College has been a pioneer in introducing Computer Education at the graduate level, in Ahmedabad. Today, the college offers Computer Science both Subject Elective and Core Elective.
Three well-equipped, air-conditioned labs, with computers of latest configuration, are accessible to students from 7:30 am to 12:30 pm
All labs are facilitated with Local Area Network having internet facility. The campus is Wi-Fi enabled.