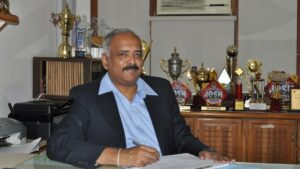 Dear Students,
This annual note that I write, is an assessment of the year gone by. It is also, an expression of what has occupied my thoughts most this year.
I begin by proudly patting ourselves on the back for maintaining our No. 1 position of the 'most preferred college' at the centralized admissions of the Commerce faculty at the Gujarat University.
We, the RJ Tibrewal staff, believe that college life is an important stage of transformation.  It is this period that grooms a child into an adult and equips them with the ability to face the world and make choices of consequence. It is, therefore, very important that this time be spent in more than Academics. It is a time for a more comprehensive development: think out of the box, explore the world of books, delve into our culture, develop a hobby and try your hand at least one sport. These, seemingly inconsequential pursuits, will add a dimension to your personality. The modern world is riddled with Competition and Stress. Therefore, the right use of this time at college to prepare yourself for it is essential.
Another concern that we face is the alarming time our youth is spending in the digital world. Science and Technology are a merciless master and a dangerous slave. We find that young children are immersing themselves into the deceptive world of social media. Sleep deprivation, distraction and depression are just some of the negative effects this obsession towards digital platforms has on us.
I urge my students to be judicious in the selection of how they want to spend their time. We have created a lonely and fragmented world in and around our smart phones and laptops. The biggest loser in this has been the Human Connect. We are no longer in real touch with each other.  Our elders are reservoirs of Experience; experience that has the capacity of training us in Life Skills. We should spend more time with them.
In my opinion the prime concern of the hour is the well-being of our future generations. The escalating cases of Self-loathing, Depression and suicides are a wake-up call we can no longer afford to ignore.
My message to one and all is this: strike a balance – between the Digital and the Human, the Indoors and the Outdoors, the Real and the Virtual and you shall emerge victorious in all your endeavours.
With best wishes,
Dr Hiten M Parikh