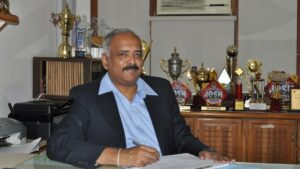 Dear Students,
It is very heartening to address all of you again through a new issue of our college magazine, AKS, after a long break of almost three years. It is an affirmation to the renewed zest with which we are all returning to the familiar normalcy of old times.
As the world still reels under the horrific experience of the Pandemic, War and Global Climatic Changes, We, as a race, have reawakened to the transient and unpredictable nature of Life. Today, more than ever, we stand humbled into recognising that in the end, it is Peace, Physical and Physiological, that should be the ultimate goal to seek. I had once read that Peace is not just absence of strife but is the presence of judicious co-habitation. Since Ages, the world has looked upon India for lessons and insignias of Peace. Be it the belief of VASDHAIVA KUTUMBAKAM or our own Bapu, India has assured the world, time and again that if we learn to cohabit with Fellow humans and Nature, Peace will prevail. I congratulate the AKS team for selecting this extremely relevant theme for this year and look forward to reading the contributions and views.
Closer home, as the proud Head of an institution teeming with youthful energy, I take pride in talking about our achievements. Our students continue the tradition of academic excellence with R.J. Tibrewal College being a regular name in the Gujarat University list of Toppers. This year Hemaxi Chaudasa of M.Com Sem-III was university topper during 2022-23. Having said that, every semester RJTCC has a representation in the toppers' list of the university.
Further, Gujarat hosted National Games this year, and we are proud to record that RJTCC registered its presence there too. Our students were a part of the Gujarat contingent. We were proud achievers at the Gujarat University Youth Festival as our folk dance and mime were adjudged as winners at both Zonal and Inter -zonal levels.
The college calendar is throbbing with life as NSS and CWDC teams conduct various activities of social relevance infusing students with sense of confidence and social responsibility. The In-house Committee provide students with a platform to hone, not only their artistic, but also their organisational abilities.
The world around us is changing, as is the Academic landscape. A new education policy is to be introduced very soon that will have a major impact on how education is imparted. However, there are subtle changes already making their presence felt. For years, the word 'placement" was identified as an essential for Engineering and Management graduates. Today companies are eager to hire from Commerce campuses also and this is reflected in the growing number of companies registering with our placement cell. The need for Tech-Knowledge and skill-based learning is visible in Gujarat government's initiative-The Innovation Club where students are made familiar with the concepts of innovations, science and avenues to convert ideas into financially viable projects. I am proud to put on record that we were one of the first colleges to conduct an on-campus workshop for the same. Another programme, worthy of note is the KCG-GU initiative of Finishing School. This programme aims to strengthen the soft skills of students, it has been conducted for two consecutive batches in the college.
The Pandemic did wreak havoc but it also opened our eyes to our capacity to adapt. We used our knowledge of technology to continue classes remotely and even managed co-curricular activity with NSS and CWDC holding activities through Teams, Zoom and other such platforms. This ability to adapt and innovate will guide our students to complete global citizens, especially now that Gujarat is making its presence felt with National games, G-20 and U-20 summits already being hosted here.
In short, it is my pride to be at the helm of this institution and I wish to end my address with a prayer that we continue to grow from strength to strength, achieving newer heights of excellence and peace prevails in the world.
All the best,
C.A. (Dr.) Hiten M Parikh
Principal,
R.J.Tibrewal Commerce College