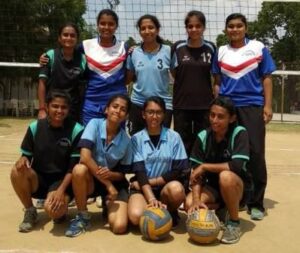 The college sports activities are held at all year long and have been the breeding ground for National and International talent.
The college has a Sports room equipped with Indoor games.
A Table-Tennis room is available for students on campus.
Volleyball, Football, Softball and handball teams are facilitated to use Gujarat University courts and grounds for practice.
All athletes use the Gujarat University Cinder Track for practice and competition.
Badminton selections are conducted at the Gujarat Vidyapith Halls.
Mr Manan Shah provides Cricket nets for two months so that our teams can have net practices. The college is thus able to counter and overcome infrastructural constraints.