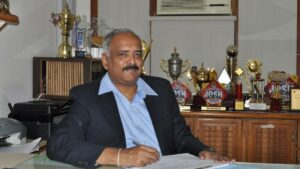 Dear Students,
When news of a new virus gripping Wuhan stated filtering in, little did anyone, anywhere in the world expected the virus to so quickly and so viscously grip the globe in its hold and thrust the modern world into the worst emergency ever faced.
The losses have been massive. Beyond the loss of Life, the pandemic saw more complex losses-loss of employment, loss of home, loss of a sense of security, loss of mental and emotional health. However not all was dark, we also saw the surge of bonding at micro and macro levels; the Family and the Society coming together to confront the dreaded virus.
The academic world was not left untouched. The abrupt end to an academic year at its fag end, in March 2020, saw many students on the verge of taking crucial exams, left high and dry. Uncertain futures stared all students in the face.
However, the spirit of survival resurged quickly and alternatives were found. The entire academic community adjusted to online teaching and maintaining a sense of continuity through various disruptions.
We, at R.J.Tibrewal, also rallied and made the best of the trying circumstances. Besides academic work, we strived to give our students a better academic environment through frequent virtual activities in our NSS and CWDC wings. We also made imparting of the employability skills course ,the Finishing School, offered by KCG ,Gujarat University possible, while up keeping all SOPs defined by the government, at all times. It is an assertion of the Human Spirit of Never Say Die that kept us going.
Times are still bleak and we live in the fear of another wave, another variant. Yet not all is dark. It is time to look for the light at the end of the tunnel; to regroup and renew the faith that better times are round the corner. I wish all of you to be filled with the divine spirit of Resilience and Tenacity. Stay safe stay healthy.
All the best,
C.A. (Dr.) Hiten M Parikh
Principal,
R.J.Tibrewal Commerce College